Description
MEGA4 is a 4-Port USB 3.1 PPPS (Per-Port Power Switching) hub designed for Raspberry Pi 4B. It adds 4 more USB 3.1 ports to Raspberry Pi 4B, and the power on each port can be turned ON or OFF separately via software.
Remarks: it is also possible to use MEGA4 on Raspberry Pi 5. However Raspberry Pi 5 moved the USB 3 port a bit (2mm), so the two boards are not perfectly aligned if you use the included U-shaped adapter.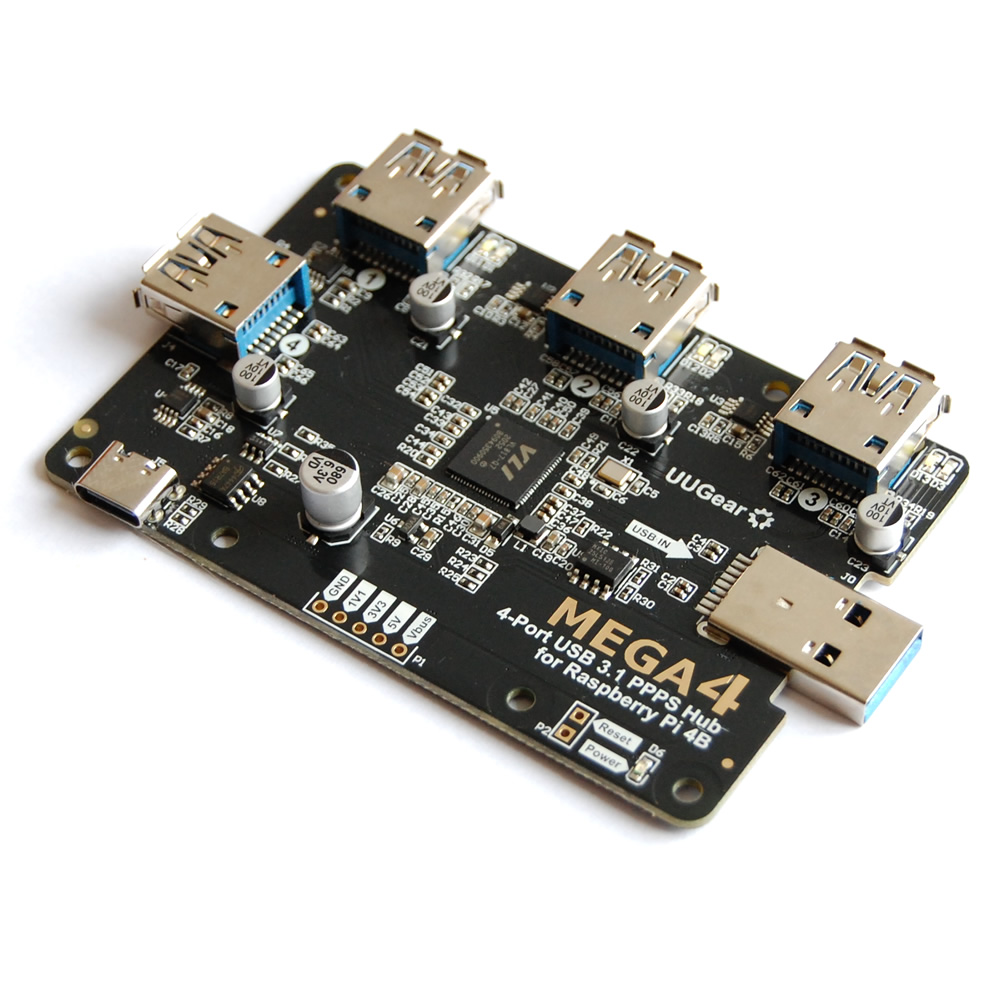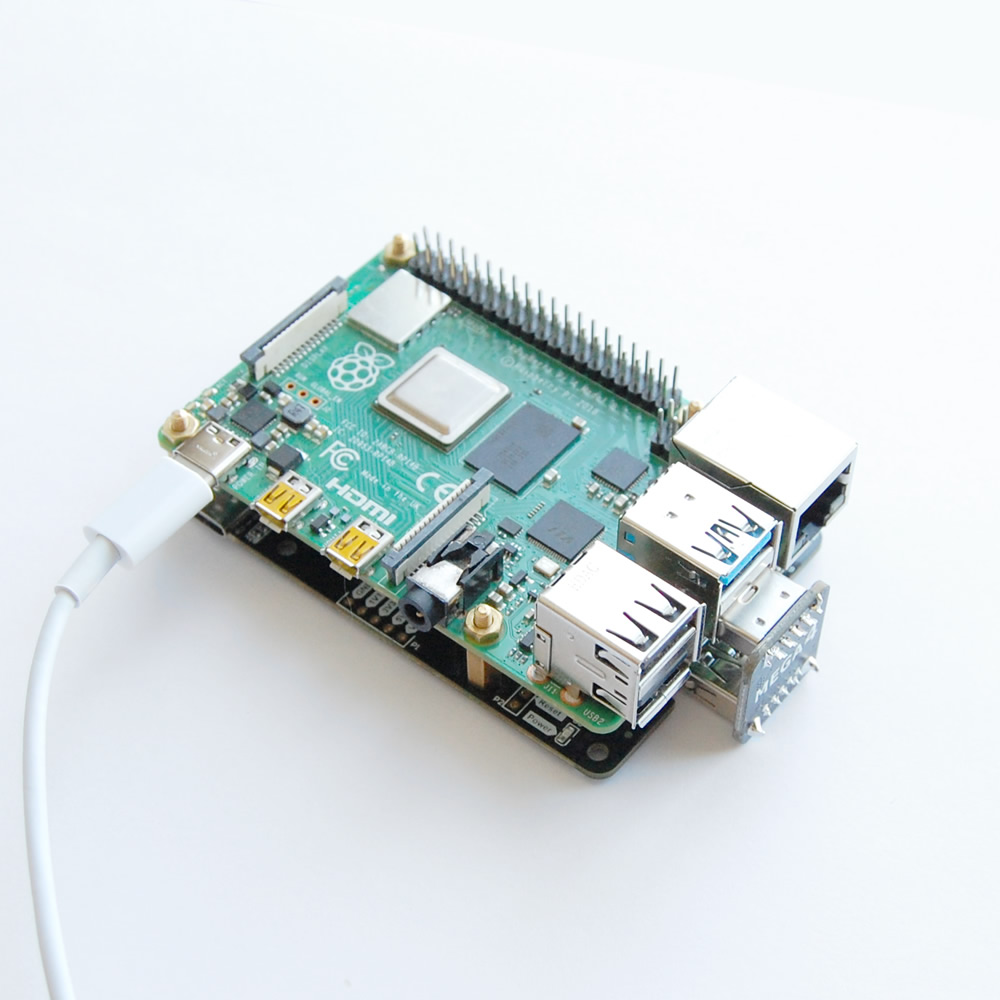 MEGA4 has the same board size as Raspberry Pi 4B, and can be mounted underneath. The U-shaped adapter (included) can make data and power connection between MEGA4 and Raspberry Pi.
MEGA4 is also a powered hub and you can connect 5V power supply to its USB type C connector and significantly increase its current output ability.
You can turn on/off the power on each USB port via the software or via UUGear Web Interface (UWI) on PC, Tablet or Smartphone.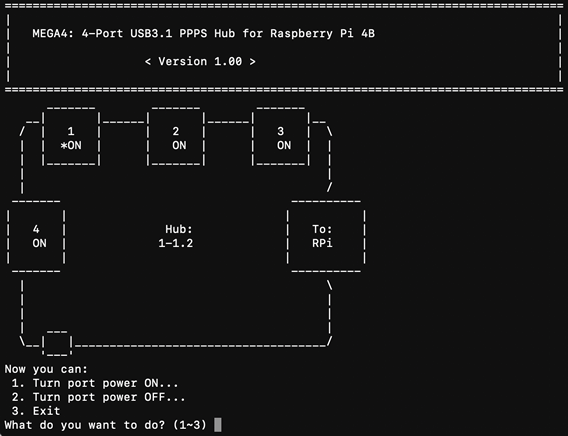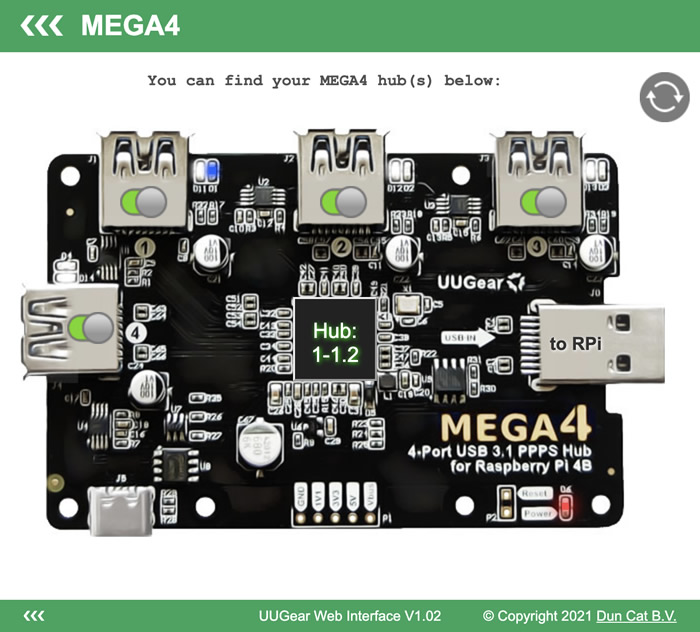 Although MEGA4 is designed for Raspberry Pi 4B, you can use it as a USB 3.1 hub on other computers. You may want to use a USB3.1 extension cable for the connection.
Software Installation
To install MEGA4's software, please run this command in your home directory:
pi@raspberrypi ~ $ wget https://www.uugear.com/repo/MEGA4/install.sh
If your Raspberry Pi has internet connection, it will immediately download the script from our website, and you will then see the "install.sh" script in your home directory. Then you just need to this script with with sudo:
pi@raspberrypi ~ $ sudo sh install.sh
You will need to use sudo to run this script because it also tries to disable USB autosuspend in /boot/cmdline.txt file.
After installing the software, you need to restart your Raspberry Pi, so the UWI server will be running in the background. With default configuration you should be able to access your MEGA4 via UWI on address http://raspberrypi:8000/mega4/.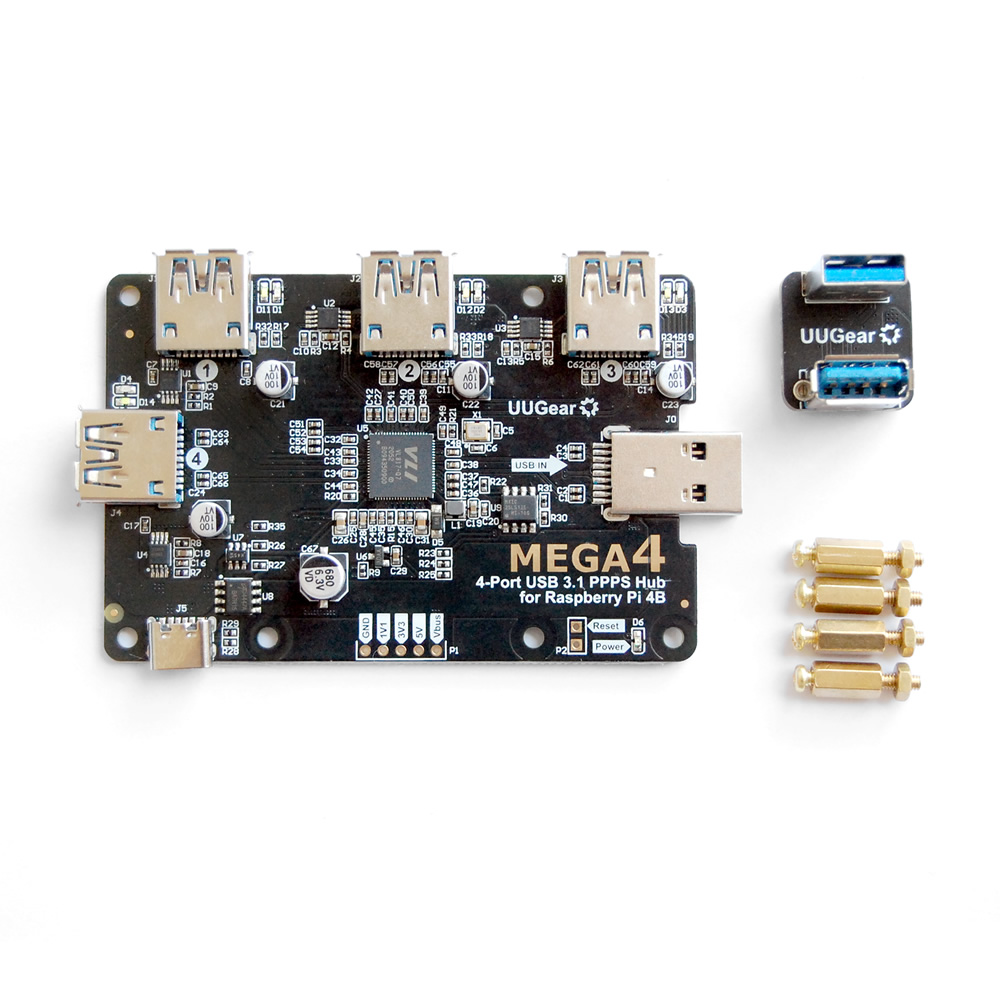 Package Content
Each package of MEGA4 contains:
MEGA4 board x 1
U-shaped adapter x 1
M2.5 x 10+6mm Copper Standoff x 4
M2.5 screws x 4
M2.5 nuts x 4
Specifications
Dimension:

85mmx 56mm x 9mm (USB plug is 7mm protrude)

Weight

29g (net weight without any accessory)

USB Hub Controller

VL817 Q7 (firmware rev 90.23)

Per-Port Power Switch

AP2511 (datasheet)

Ideal Diode MOSFET

AO4447 (datasheet)

Standards

USB 3.1 Gen1 (USB 3.0), 2.0 and 1.1 compatibility

Multiple Transaction Translator (MTT)

Per-Port Power Switching (PPPS)

Per-Port Over Current Protection

Data Speed

USB v3.1 Gen 1: up to 5 Gbps

USB v2.0: up to 480 Mbps

USB v1.1: up to 12 Mbps

USB Ports

Upstream: 1 (A-type USB 3.0 plug)

Downstream: 4 (A-type USB 3.0 female connector)

Output Current

Bus powered only: up to 1.2A in total (limited by Raspberry Pi 4B)

With supplemental power supply: up to 5A in total, and 2.5A per port (also depends on the power supply)

Static Current

64mA

Operating Temperature

0℃~70℃

Humidity

0~80% RH, no condensing
User Manual
More details about MEGA4 can be found in its user manual: https://www.uugear.com/doc/MEGA4_UserManual.pdf