Description
---
This version of Zero4U works with Raspberry Pi Zero V1.3 (with camera connector) and Raspberry Pi Zero (2) W (with the help from a ferrite ring, details here).
On Raspberry Pi Zero 2 W, although the DP pad moves a little bit, the move is so small that Zero4U's pogo pin can still contact it. Please see the overlapped photos bellow (thanks to Jeff Geerling for providing the photos), the DP testing pad moves a little bit to the left, but the center of the old DP pad still within the new DP pad. We confirmed that Zero4U can work with Raspberry Pi Zero 2 W.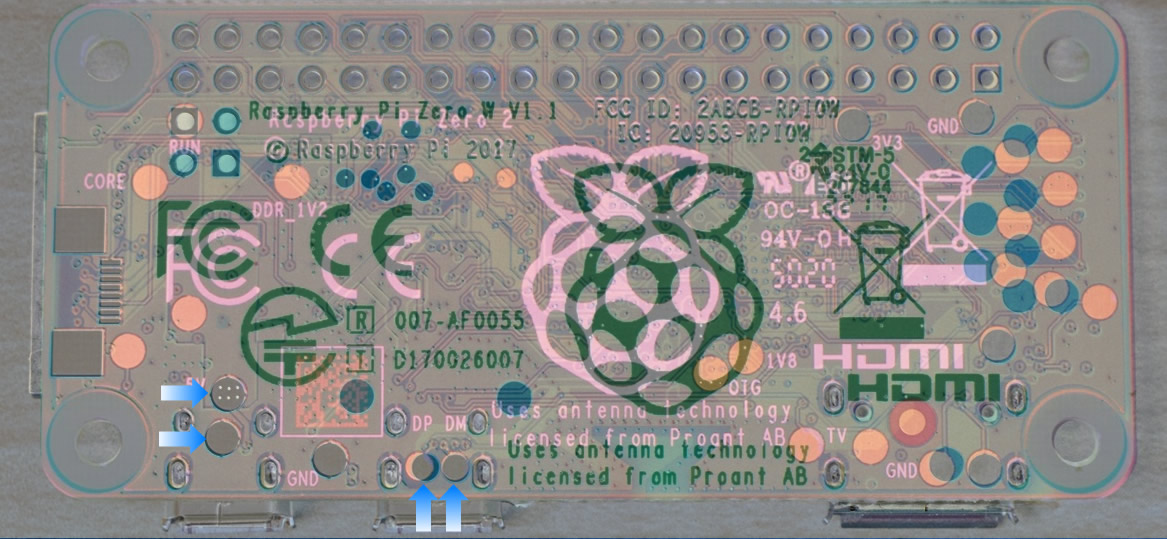 After complete tests we realize that Raspberry Pi Zero 2 W has stronger WiFi radiation than the first generation of Raspberry Pi Zero W. As a result, the USB devices connected to some ports in Zero4U may get interfered and work unstably. The solution is to place a metallised PET membrane under Zero4U, this material is the same with those anti-static bags in silver gray color.
Since March 4th, 2022, we put a metallised PET membrane into the package. This membrane can be placed at the bottom of Zero4U (please see picture below), and protect Zero4U from being interfered by WiFi radiation.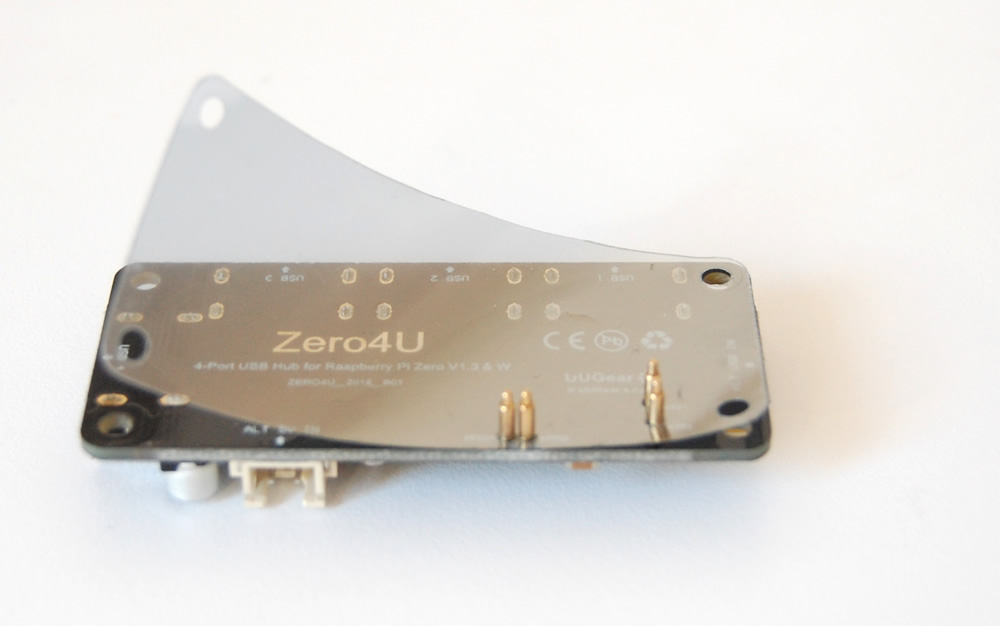 ---
This is a 4-port USB hub for Raspberry Pi Zero, and it can be mounted to Raspberry Pi Zero back-to-back. After mounting this USB hub to your Raspberry Pi Zero, it immediately has 4 USB ports that could transfer data in USB 2.0 high-speed. The 4 pogo pins on the back will connect the PP1, PP6, PP22 and PP23 testing pads on Raspberry Pi Zero, hence no soldering will be needed.
The USB hub will take power directly from your Raspberry Pi Zero, so you don't need to power the USB hub separately. However you can use the JST XH2.54 connector on board as the alternative power input port.
The blue LED on board works the power indicator, and will lights up when power is connected.
Each USB port has a dedicated white LED as transaction indicator, and a dedicated electrolytic capacitor to help stabilizing the output voltage.
If you use this USB hub with other types of computer, you can use a USB cable (not included) to connect the mini-USB port on board to the up-stream USB port.
You can also get an Acrylic case for it.
Remarks: if you ever enabled Ethernet Gadget on your Raspberry Pi Zero, you will need to disable it to use Zero4U. You can either comment out the "dtoverlay=dwc2" in /boot/config.txt, or plug an OTG adapter to the data micro USB port on Raspberry Pi Zero.
---
User Manual
http://www.uugear.com/doc/Zero4U_UserManual.pdf
---
 Package Content
Each package of this USB hub contains:
4-port USB hub board x 1
plastic spacer x 4
M2.5 plastic screw x 4
M2.5 plastic nut x 4
Ferrite ring x 1
Metallised PET membrane x 1
---
 Specifications
Dimension: 65mm x 30mm x 9mm
Weight: 14 g (net weight without any accessory)
Power Mode: Bus-Power / Self-Power
Standards: USB 2.0 and 1.1 compatibility
Working Voltage: 5V DC
Static Current: 1mA
Maximum Output Current: 2A for all ports in self-power mode, 500mA for all ports in bus-power mode
Operating Temperature: 0°C~70°C
Storage Temperature: -20°C~80°C
Humidity: 0~80%RH, no condensing
---
 Related Videos
The video below is from the review by RasPi.TV: