Today we are proud to announce Witty Pi 3 Rev2: a new revision of Witty Pi 3. This new revision changes the 5V input connecter from micro USB to USB type C, and replaces the onboard linear regulator (LM29150) with switching DC/DC converter (MP4462). These changes give Witty Pi 3 much better ability to output higher current, and also practically widen the range of input voltage.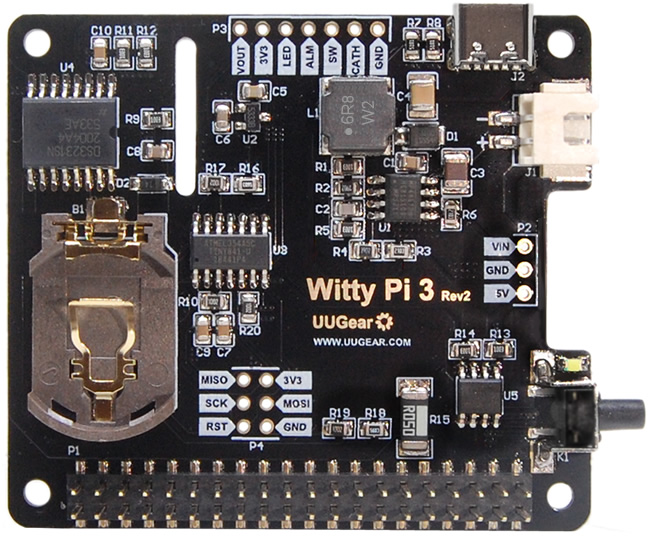 What's New?
The appearance of Witty Pi 3 Rev2 is very similar to the first revision (please see the picture below). The locations of headers and switch remain the same, that means the new revision and old revision are physically interchangeable (except that you need to use type C plug instead of micro USB plug, if you want to give it 5V).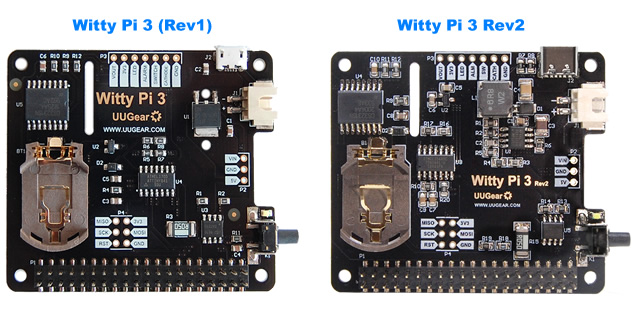 To type C connector and the new DC/DC converter is at up-right corner of the board. The table below compares the two revisions with detailed parameters.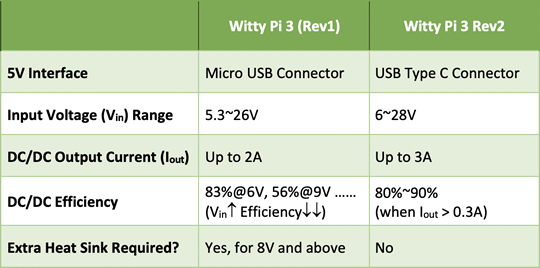 Because the first revision uses linear regulator (LM29150), its efficiency drops very quick when the input voltage increase. That means using it on 12V or 24V system is not practical: even if the regulator can work with extra heat sink, the efficiency will be so poor and that ruins the advantage of using Witty Pi, which is saving energy in most cases. Now the new revision comes with a decent switching DC/DC converter, which can work up to DC 28V without adding extra heat sink, and still keeps the efficiency above 80%, that is indeed a comprehensive improvement.
Firmware and Software Update
Witty Pi 3 Rev2 comes with newer version of firmware (V1.03, with ID=0x23). This firmware allows setting the power cut delay to a bigger value (up to 25.0 seconds). The purpose for this update is to workaround the boot delay caused by USB boot or NOOBS. More details can be found in its user manual.
The software is also updated to V3.12, to allow users to actually set a longer power cut delay. Also the we made some improvements on Internet time synchronisation, to avoid writing incorrect time into system, when the network is not stable.
UUGear Web Interface (UWI) is also updated to V1.01, to support the new revision of Witty Pi 3. When you install the new software, it will install the latest UWI for you (given you don't have "uwi" folder in your home directory).
Please notice the firmware and software update are not dedicated for Witty Pi 3 Rev2. Witty Pi 3 (Rev1) and Witty Pi 3 Mini can also use the new firmware and software. However you will need to upgrade the firmware by yourself.
Price and Where to Buy?
Witty Pi 3 Rev2's retail price is 570 CZK (about 22.01EUR  /  19.30GBP  /  26.40USD).
You can order it from our e-shop or you may be able to order it from our resellers soon.