Description
This is a very small (14 x 26 x 8mm), breadboard friendly light sensor module. It could be used to detect the light intensity. The PCB surface is finished with electroless nickel immersion gold (ENIG) process and is RoHs lead-free.
There are 4 pins available: G, V, D and A pins.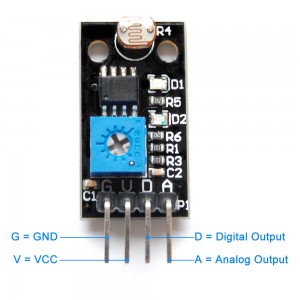 The digital output pin (D) stays on high voltage level, until the light intensity exceed the threshold. Monitoring the digital output pin (D) could know the environment is bright or dark. Adjusting the potentiometer in blue can change the sensitivity of the module, rotating it clock wise will make the module more sensitive.
The analog output pin (A) can output the voltage that indicates the light intensity of the environment. The darker the environment is, the higher voltage will be output.
There are two LEDs on board, the red LED is power indicator while the blue LED is the digital output indicator. The voltage comparator is LM393, which has very good performance and reliability.
Specification
using a high quality photoresistor
working voltage: 3.3~5V
output: digital switching  (LOW or HIGH voltage on D pin) and analog signal (voltage output on A pin)
using a wide voltage LM393 comparator that has good waveform
maximum output current >= 15mA, can directly light LED.
very low power consumption, 2.8mA (dark) ~ 4.1mA (bright)
with adjustable potentiometer to adjust the sensitivity
has two M2.5 mounting holes